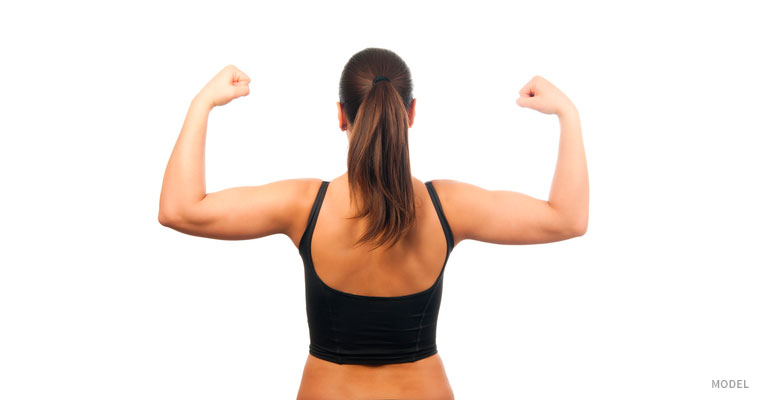 Brachioplasty for Loose Arm Skin
Loose upper arm skin is most often related to weight loss, but can also occur as a natural part of the aging process. If you were ever overweight, you more than likely developed heavy upper arms. To accommodate the increased volume of the upper arms, your skin stretched. After weight loss, skin often fails to tighten, and so it sags. The only way to improve this problem is through an arm lift, also called brachioplasty.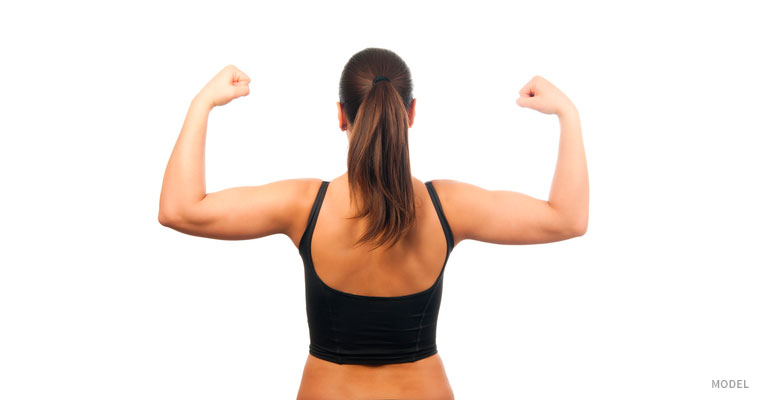 General Information
Liposuction is not an option if your problem is due to loose skin. The only time liposuction is a better choice is when there is a lot of fat and the skin is tight. When the skin is loose, brachioplasty surgery is usually the best choice. Incisions and the resultant scars in brachioplasty are the greatest drawback of this operation. They will extend from the armpit to the elbow, along the inside of the arm. This operation exchanges one cosmetic problem (loose skin) for another (scars). In general, those with very loose saggy skin are most likely to find this exchange worthwhile. Those with only a small amount of looseness will probably not want the scars.
Unfortunately, women who have flabby and hanging upper arms can't wear sleeveless clothes and spaghetti straps . The remedy for these women is a newly popularized plastic surgery procedure called brachioplasty.

Photo Gallery
Vew the results of previous patients on
Dr. Concannon's extensive photo gallery
View More Photos
About Brachioplasty
Brachioplasty, (also known as Arm Lift or Arm Tuck), is a plastic surgery procedure designed to remove redundant arm flab- also known as "Bat Wings," "Batwing Deformity" and "Bingo Wings". Loose upper arm skin folds are not only unsightly, but also interfere with one's ability to fit in sleeved tops, as well as causing underarm skin rash and irritation. Candidates for arm lift plastic surgery are often embarrassed by their large and "jiggley" arms which they can't hide!
Brachioplasty can now offer women the freedom of a lifestyle that they couldn't enjoy previously. In fact, the popularity of this procedure has soared to a point that according to the American Society for Aesthetic Plastic Surgery, the number of Brachioplasty surgeries has tripled since 1997.
Candidates
The majority of candidates for brachioplasty are those have lost massive weight following bariatric surgery, also known as "stomach stapling", gastric bypass, or "lap banding." While these patients reap many health and psychological benefits from this weight loss, one of its aftereffects is sagging skin that hangs from the arms and other parts of the body. After years of obesity, stretching of skin causes loss of skin elasticity; therefore, no amount of diet or exercise can restore firmness and tone to the upper arms. Another group of arm tuck candidates are those who as a result of aging have developed upper arm flabbiness.
Fortunately, a brachioplasty can help restore a person's ability to wear sleeveless blouses and shirts comfortably, to show their arms without feeling self-conscious, and to conduct their lives with greater freedom and confidence.
Not everyone with large arms is a good candidate for this procedure. Those who predominantly have excess fat are better served with first undergoing liposuction, and then to consider a brachioplasty only if their arm skin does not shrink with liposculpture alone. Brachioplasty is contraindicated for women who have had a radical mastectomy or extensive breast cancer surgery, due to the risk of developing chronic arm swelling.
Style of Brachioplasty Performed
The style of brachioplasty performed by Dr. Concannon depends upon the amount and location of your excess skin. If excess hanging skin is located within two inches from the armpit, he can potentially pull up and tuck this excess skin into the armpit with an "axillary brachioplasty" or "Mini arm tuck. For those whose excess skin extends like a "Bat Wing" from the armpit to the elbow, the only option is the complete removal of the arm flab in a standard brachioplasty or standard arm lift.
Scars
An important consideration for brachioplasty patients is the resulting scars. With a mini arm tuck, the scar is limited to a semi-circular line hidden in the armpit. Standard brachioplasty, however, results in a permanent scar extending the length of the upper arm, from the armpit to the elbow. This scar is typically placed on the inner side of the arm, which is hidden in a normal pose. The severity of the scar's appearance varies from patient to patient and cannot be predicted. Therefore, it is extremely important to decide whether having a permanent scar is a good "trade off" for having smaller and firmer upper arms.
Nobody wants to have surgical scars on their arms if can avoid it. As a board certified plastic surgeon, I often get asked by women if they can "get away with" just doing liposuction in order to reduce the size of their arms. The answer to this important question is- It all depends on skin elasticity, amount of excess fat and its relative proportion to excess skin. If a person is young, has good skin elasticity, no stretch marks, has not had a history of major weight loss, and has not experienced episodes of alternating moderate weight gain and loss; then, liposuction by an expert plastic surgeon can be a good option for reducing the size of their arms.
On the other hand, if the patient had lost significant amount of weight, and has poor skin elasticity along with excess arm skin folds, the only viable option is to undergo an arm tuck or brachioplasty.
There are yet other groups of women who have not had massive weight loss, and either as a result of aging, sun damage, or just poor skin elasticity, have loose and flabby arms. Liposuction will not benefit these patients who would also need to undergo standard brachioplasty.
You will notice dramatic results with respect to loss of excess skin as soon as Dr. Concannon changes your dressing after cosmetic surgery. At this time the scars are rather fresh and prominent. It usually takes about 6 to12 months for these scars to settle and gradually fade.
How Prominent Scars Are?
A long scar will extend the length from your armpit to your elbow. In some patients these scars heal very well and become faint with time. However, only the location of the scars is predictable. The intensity, color, and thickness of the scars from brachioplasty are not predictable, despite skin tone or ethnicity.
For the majority of patients, however, losing their "bat wings" makes the scars tolerable. Patients who do not regard this as a good "trade off" should not undergo brachioplasty.
What Are Some of The Benefits of Brachioplasty/Arm Lift?
Most patients seek aesthetic improvements – arms that are once again firm and toned. However, this is just one of the many benefits of this procedure. Benefits also include an end to the rashes that develop when excess arm skin sticks to armpit skin and to the chest, an improved ability to exercise and the ability to wear clothes comfortably.
Will Brachioplasty/arm Lift Improve My Muscle Tone?
While brachioplasty reduces flabbiness and improves contour, you will need to exercise regularly to firm the muscle beneath the skin. It will be helpful to do so before the procedure, as well.