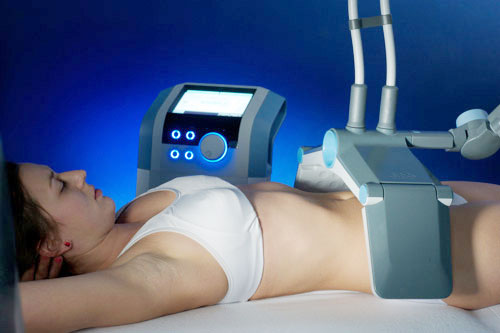 Model
General Information
As with the Exilis Elite, treatments are done in the office without the need for any medication and there is no down or recovery time. Each Vanquish treatment requires approximately 30 to 45 minutes. A qualified technician monitors the energy levels of the device, while it is positioned over the patient's abdomen and flanks during treatment. A warm sensation is typically noted and no significant patient discomfort has been experienced in our limited series. Approximately 4 to 6 treatments are recommended for best results and although immediate results may be seen, optimal improvement may take several months or longer. It should be noted that the Vanquish treatment for fat reduction is not intended to be a substitute for sensible diet and exercise, which are encouraged to maximize the results with these treatments and improve the patient health.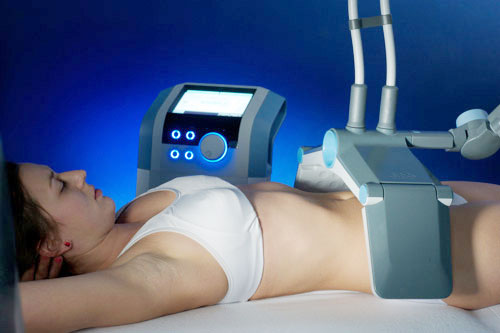 Model
VANQUISH FAT REDUCTION Q & A:
Q. Why choose Vanquish?
A. Vanquish is a revolutionary treatment in non-invasive body sculpting, and the closest treatment to surgical results. Vanquish's unique design allows treatment of large areas at one time, making it the largest treatment area in the industry. It is the first no contact, hands free body contouring devise, making it consistent, and little room for human error. This larger treatment area helps to speed up treatment time and make treatments easier to treat multiple areas at once. Vanquish shows the fastest results in permanent fat reduction, with patients may see results as quickly as after their first treatment. Of 25 patients studied in a recent study, all had visible results after the first treatment and, after the full course of four sessions, 59 percent of abdominal fat was destroyed.
TO SUMMARIZE THE BENEFITS OF VANQUISH:
It only takes a half hour to treat 3 areas
There is no pain during, or after treatment
It can permanently destroy an average of 2 inches, with many patients having a 4 or more inch loss of fat permanently
Results can be seen in weeks (not months)
Q. How is Vanquish different than CoolSculpting?
A. CoolSculpting (Zeltiq, Cryotherapy), was a first generation device that used freezing fat as a method to kill the fat cell. Although this was an exciting breakthrough for the time being, it in no way can compare with the breakthrough of Vanquish.
Some negatives of CoolSculpting are:
Takes an hour per small area, plus an hour thawing out time. If you wanted 4 areas, that is 4 hours of treatment, and four hours of thawing. A total of 8 hours.
CoolSculpting is only pain-free when you do it, but for 24 hours post Tx, you're in pain.
It is limited in achieving a broad area of application, so you can't get a total even area.
It can only get up to 20% of the fat in one section at a time, which is up to 1 inch.
It takes 3 months to get the result. You can't customize the treatment to the patient. The fat to form around the device.
Q. How is Vanquish different than Liposonix?
A. Liposonix was the second generation device to come out with the ability to kill fat permanently and non-invasively. It is better than CoolSculpting in that it takes a fourth of the time to treat an area, and it could be customized to an individuals shape, without leaving gaps of untreated area.
The downsides to Liposonix are:
It can only get an inch
It takes 3 months to see the full result
There is discomfort during the treatment session (not after)
Q. How does Vanquish work?
A. Vanquish is a non-invasive, no contact treatment that heats adipose tissue to the point of apoptosis, while the surrounding tissue remains unaffected. Vanquish is safe, natural, and very effective.
Q. How Long does it take?
A. Each Vanquish treatment takes an average of 30 minutes and most patients need on average four treatments. Each treatment is spaced a minimum of a week apart.
Q. How do I know if I'm a good candidate?
A. While Vanquish can be safely performed on most people, there are some restrictions such as if you have metal implants (including metal hip replacements, surgical staples, or surgical screws) near the area of treatment, a pacemaker, or are pregnant (or might be pregnant) you should not have Vanquish. The best way is to determine whether you are a good candidate for Vanquish, is to come in and see us for a complimentary consultation so we can evaluate your individual needs.
Q. Does it hurt? What does it feel like?
A. Most patients report that it feels like a warming sensation or a heating pad. It can get warm and you may sweat a bit, but it is a very tolerable treatment. One of our nurses said it felt like a "hot stone massage".
Q. What are the most common side effects?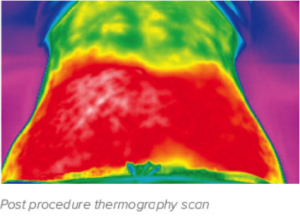 A. Immediately after treatment, your skin will be warmer than usual and may be pink. The surface temperature of your skin will have been heated to above its normal temperature. The temperature of the skin should return to normal soon after treatment. While uncommon, it is possible to have small tender red areas and, in some cases, a burn or blister can occur. We will monitor treatment to ensure a successful outcome.
Q. What do I need to do after my treatment?
A. You cam resume your normal activities after treatment, but it is advisable that you drink some extra water to flush your system.
Q. When will I see results?
A. Patients may begin to see results within a few weeks after their first treatment, but this varies from person to person. For maximum results, we like to give up to 4-8 weeks.
Q. How long do the results last?
A. Once completed with treatments, results should remain indefinitely, as long as the patient maintains their current weight and lifestyle.
Q. How should I prepare for treatment?
A. We recommend our patients dress in comfortable clothing day of treatment. We also highly advice adequate hydration the day before treatment and the day of treatment.
Video: Vanquish Fat Reduction Machine
Video: Fox 5 News – Vanquish Fat Removal
Video: Vanquish Non-Surgical Fat Reduction 
Heating Fat Cells Away In No Time